Make A Difference In A Young Life. Get Involved.
Make a difference in the life of an at-risk youth and in your community by becoming involved through our volunteer program. Volunteers play an important role in our organization. We have opportunities for volunteers in fundraising, outdoor and indoor youth programs, special events, as well as volunteer positions in youth mentoring.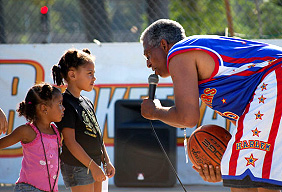 YOUTH MENTOR
Youth mentoring is an important and rewarding volunteer opportunity with BFP. Mentors provide a positive adult influence for our youths, working through the Ballin' For Peace core values, youth leadership, community service projects, and career development.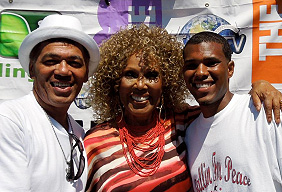 SPECIAL EVENTS VOLUNTEER
Join a committee of staff and other volunteers working together to help plan, organize, manage, and implement successful Ballin' For Peace basketball sports competition and competition-related special events on the event day and/or participating in the event.

Commonly Asked Questions About Ballin' For Peace Volunteer Program
We have various opportunities for you to become engaged with that best fits your availability and interests. We make every effort to be as accommodating as possible with our volunteers' time, and we ask the same in return. However, it is doubtful that you will have a regular volunteer time (i.e. every Friday from 11am-4pm). Given that most opportunities at Ballin' For Peace are project-oriented it is helpful to have a flexible schedule to accommodate this commitment.
Volunteers must be positive, outgoing, and passionate about children and our mission. It is important that volunteers work well in a team environment. In addition, our volunteers need to be open-minded and flexible to meet the needs of the youths and communities we serve. Please note that some opportunities, including youth mentor, have a minimum age requirement.
There are three main areas of volunteerism with Ballin' For Peace: Youth Mentor, Fundraising and Special Events. Additional opportunities may become available on a case-by-case basis and as our organization continues to grow. Please contact our volunteer coordinator directly to inquire.
While we do expect a high level of commitment and professionalism from our volunteers, commitment levels vary, depending on the volunteer position you choose. You may choose to become heavily involved or you may decide to sign up for specific events one at a time that's most accommodating to your available time.
In order to provide at-risk youths and their communities with the best experience possible, we require all potential volunteers to go through an approval process before becoming an active Ballin' For Peace volunteer.