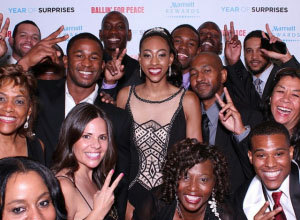 About Ballin' For Peace Los Angeles
Ballin' For Peace-New Social Workers, a 501c3 non-profit organization, was formed to provide positive recreational activities for youth and adults in the community. NSW has hosted basketball programs, leagues, celebrity games and other entertaining events in the community since 1981. Our theme "Have a Ball without Drugs, Alcohol and Gang Violence" has been well received by several communities visited.
Based in the Los Angeles area, Ballin' For Peace provides workshops, employment opportunities, educational grants, scholarships, health care services and other programs for all ages. We partner with various businesses and community organizations within the LA area, major cities in the US and abroad to bring special activities to at risk kids and youth. These events have been a great success and received reviews from news stations (ABC and NBC) within the LA area, surrounding cities, a national magazine (SLAM), local newspapers and the Los Angeles Police Department. This event supported Los Angeles Counties endeavor by promoting change from being one of the most violent major cities to becoming one of the safest larger cities in the nation. As quoted by former LA mayor, Antonio Villaraigosa, gang homicides fell nearly 40 percent in 2007; reported in the LA Times issue of January 11, 2008. During the Los Angeles Clippers half-time game at Staples Center on April 11, 2009, members of the Ballin' for Peace organization received a Certificate of Appreciation from Mayor Antonio Villaraigosa for their exemplary work, and positive activity that has helped to reduce serious gang violence in LA.
While sports and entertainment brings in the crowds, a variety of entertainment and events is held for all ages. The conferences and workshops address the alarming negative statistics in California, nationally and around the world. Topics pertain to the violence in our schools, substance abuse, teen suicide, gang violence and more. We invite current and former NBA players, street ball legends, street ball cops, actors, actresses, musicians, artists, radio personnel, community leaders, politicians, pastors, celebrities, business professionals and others to our games and to assist and facilitate workshops on the various subject matters. BFP continues to host its annual "To The Top" contest, a signature event for the organization that brings out people from all walks of life testing their basketball skills. Although Venice Beach in the Los Angeles area is the chosen location for this event, we plan to take it to other locations and cities throughout the country.